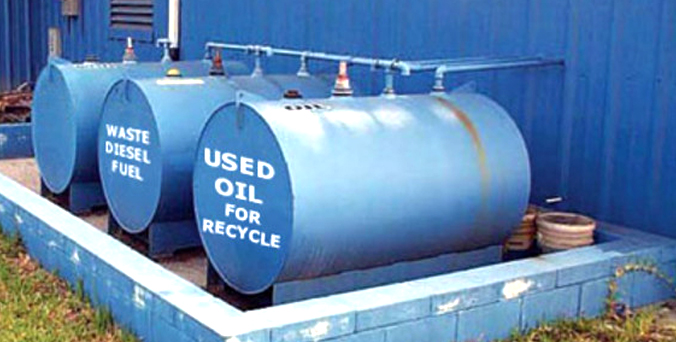 5 to 50 gallon batch cleaning of waste oils for fuel blending
Our Centrifuges are high quality units engineered for the super efficient separation of solids from liquids.
What you need to know and how it works
Dieselcraft's Black Diesel and WVO Fuel Factory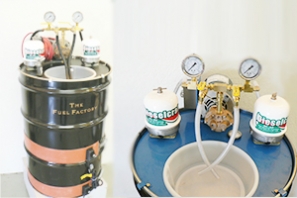 The cleaning rate is 216 gallons per hour
Includes:
2 each Dieselcraft OC-50 High Speed Centrifuges.
1/2 HP pump 120 volt standard or 120/240 50/60 HZ optional
1 each 1900 watt 120 volt drum heaters
100 mesh suction strainer and wand
2 each pour through 200 micron strainers for easy filling.
In kit form. Assembly required.
Drum is not included
Contact us for custom systems
Email us for "How to Make Black Diesel"
Waste vegetable oil after 20 minutes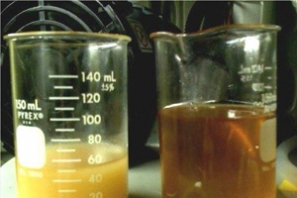 Follow the forum discussion
Download Installation Info Page
The centrifuge can handle maximum particle size of 500 micron at the input. The centrifuge nozzles are .045 inches/ 1.15 mm. However, for the safety of the pump, it is best if a suction filter of 150 micron is used.
Dieselcraft Oil Cleaning Centrifuge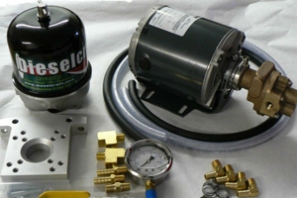 Flow rates from 54 gallons per hour to 108 gallons per hour
Supplied Universal mounting plate is 3″ wide x 4″ long with a flange mount with two 1/2 holes and a 1 1/4″ NPT female coupling for affixing the return line.
Rotor holding capacity: 10.5 oz to 21 oz of contamination.
At 80 PSI and above the rotor speed is more than 7500 rpm
5 Year Warranty
 

Waste Oil Recovery and Purification Systems
The Fuel Factory is a plug and play complete system for processing waste motor oil or waste vegetable oil
The Fuel Factory is a set of precision centrifuges driven by an industrial duty gear pump that can run continuous for 24 hours with out a problem and will clean 216 gallons of waste oil per hour.
The Fuel Factory will clean any waste motor oil, transmission fluid or vegetable oil without any filters.

The Fuel Factory is built on a precision heavy steel plate that hold the two centrifuges, pump, motor, switch and the easy pour 12″ pour opening.

The Fuel Factory is designed to fit inside and just below the top edge of a standard 55gallon open top drum. By being below the top a 1/2 inch there are NO SPILLS on the ground. Everything goes in the Fuel Factory. 

The Fuel Factory is easily removed from the drum if needed. 
Process the oil in one drum then use the same pump to transfer the finished product to a storage tank.

* Time depends on oil temperature and time it take to heat to operation temperature of 160-180F
Individual parts are available to configure a smaller system if needed.